Back to the City
Featuring "After Lazy Noon" and "Alone in South Carolina"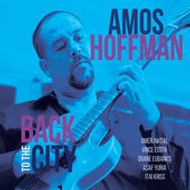 GET IT NOW
---
Bio
AMOS HOFFMAN (pronounced AH-mus) is an Israeli Jazz Guitarist & Oudist known worldwide as a pioneer in fusing the rhythms and melodic themes of the Middle East with Modern Jazz. 
Hoffman started playing guitar at the age of 6, and the oud a few years later. He studied guitar privately, and later attended the prestigious Rubin Academy of Music in Jerusalem. His search for new musical experiences led him first to Amsterdam, and then to New York City, where he played jazz with both established musicians and up-and-coming talents like Jason Lindler, bassist Avishai Cohen, and Claudia Acuna.
To date, Hoffman has recorded 5 solo albums: The Dreamer (1999), Na'ama (2006), Evolution (2008), Carving (2010), and his most recent release, Back to the City (2015).  He has also contributed on dozens more for artists in Israel and worldwide including Avishai Cohen, Kiko Berenguer (Spain), and Jan Mlynarski (Poland).  
In 2013, Amos was awarded one of Israel's most prestigious prizes – The Landau Prize for Arts and Sciences for Outstanding Achievement in the field of Jazz. Now based in the U.S., Hoffman looks forward to creating new musical adventures and reaching an even larger audience.
For U.S. booking inquiries: management@amoshoffman.com
For International booking inquiries: info@giulianacesariniproart.com